october 4, 2012
What's new with the Kansas City downtown streetcar project?
review assessment of impacts to environment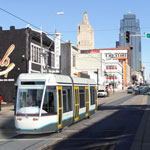 The city of Kansas City, Mo., jointly with the Federal Transit Administration, has prepared a series of documents that evaluate potential environmental impacts of the downtown streetcar project's various alternatives.
The proposed project includes the construction and operation of a streetcar line on Main Street in downtown Kansas City, Mo. The alignment would begin with a loop around the City Market on the north and then run south on Main Street to the Union Station/Crown Center area, and then back to the City Market.
The Environmental Assessment for the Kansas City downtown streetcar is available for public and agency review through Oct. 26.
Review or comment on Environmental Assessment
---
streetcar mail-in vote in process
At the end of this month, Kansas City, Mo., plans to mail ballots for the streetcar initiative to registered voters in the Downtown Streetcar Transportation Development District who submitted a valid application for a mail-in ballot by the Oct. 2 deadline. The district encompasses the River Market, the Downtown Loop and Crown Center. Voters must return their ballots by Dec. 11.
The ballots will seek approval for property and sales tax increases within the district to help pay the local cost of the streetcar system. The ballot proposes a 1-cent sales tax increase within the district. It also proposes a special assessment of 70 cents per $100 of assessed valuation for residential properties, and a special assessment of 48 cents per $100 of assessed valuation for commercial properties.

---
Metro's largest transit center project kicks off at Indian Springs site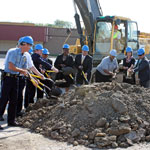 The Unified Government of Wyandotte County/Kansas City, Kan., and the Kansas City Area Transportation Authority broke ground Sept. 19 on what will be the region's largest transit center at 47th and State Avenue, the former Indian Springs Shopping Center site. The project is funded by $4.5 million from a federal TIGER grant.
Additional federal stimulus funding will help the Unified Government construct a new building at the site to house a rest station for bus drivers, the Wyandotte/Leavenworth Area Agency on Aging and the police department's Midtown Patrol. The building also will have a community room that could become future retail space, a park-and-ride lot, and electric-vehicle charging stations. Local officials hope it will be a catalyst for future mixed-use economic development.

---
Taking a look at transit-oriented development along U.S. 71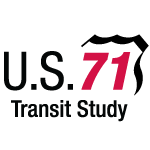 This week, the U.S. 71 Transit Study team held a workshop with staff members from Kansas City, Mo., and Grandview to identify transit-oriented development opportunities and multimodal connections along U.S. 71 Highway/Bruce R. Watkins Drive. They are discussing principles of transit-oriented development, reviewing case studies from across the country, and sketching design ideas for the corridor. We will share the workshop's findings at a later time.
The U.S. Transit Study goal is to identify a locally preferred alternative, which includes the type of transit the community wants in the corridor, the route it should follow, and favored financial strategies to support construction and operations.

---
Creating Sustainable Places transportation corridors news
MARC's Creating Sustainable Places initiative is exploring sustainable land-use and transportation concepts for six demonstration corridors. All are part of the Smart Moves regional transit plan and are a key focus of other transit investments, including a federal TIGER grant.
take U.S. 40 corridor survey
What kinds of development and transportation options would you like to see happen along U.S. Highway 40 between Kansas City and Blue Springs? Help create a vision for this corridor. Take the survey
---
attend an open house for Shawnee mission parkway / metcalf avenue corridor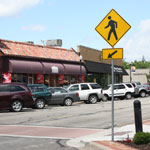 The Shawnee Mission Parkway / Metcalf Avenue project is working on redevelopment concepts for activity hubs along the corridor, including Nieman / Shawnee Mission Parkway and Antioch / Shawnee Mission Parkway. The team is also considering pedestrian and bicycle plans for downtown Overland Park and downtown Mission. Learn more at open houses scheduled later this month:
Monday, Oct. 29, 2012 • 5–8 p.m.
Downtown Overland Park/Downtown Mission Open House
Sylvester Powell, Jr., Community Center, Mission, Kan.
Public presentation including keypad polling at 5:30 p.m. and 7 p.m.
Tuesday, Oct. 30, 2012 • 5–8 p.m.
Shawnee Mission Parkway at Antioch and Nieman Open House
Hocker Grover Middle School, Shawnee, Kan.
Public presentation including keypad polling at 5:30 p.m. and 7 p.m.
share ideas

Imagine Transit


Sustainable Places
in brief
Changes made to many Metro bus routes
The Kansas City Area Transportation Authority adjusted service on a number of Metro bus routes as of Sept. 30. Route changes
---
Minnesota/State Avenue route gets larger buses
Starting Oct. 6, the Unified Government and Kansas City Area Transit Authority are deploying larger buses on the 101-Minnesota / State Avenue route on Saturdays to meet growing passenger demand.
---
Johnson County Transit proposes fare increases
Johnson County Transit will hold public meetings Oct. 10–11 to discuss proposed fare increases to the 710-K-10 Connector route for January 2013 and all routes in July 2013. Details and how to provide input
---
Bus rapid transit: commute of the future?
A recent story in the Wall Street Journal features Kansas City's MAX (Metro Area Express) service as an example of buses designed to operate more like trains. Read story

calendar
October 9
Johnson County Transportation Council, 7 a.m.
October 10
Mid-America Regional Council Special Transportation-Job Access Partnership, 9 a.m.
October 24
Kansas City Area Transportation Authority Board of Commissioners, 12 p.m.
November 7
Mid-America Regional Council Transit Committee, 10:30 a.m.