july 15, 2011
Transit improvements planned for Metcalf/Shawnee Mission Parkway

Open house on july 19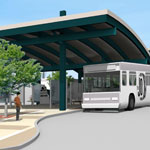 What could new transit stations, park-and-ride facilities and bus stops look like along the Metcalf Avenue / Shawnee Mission Parkway corridor in Overland Park, Mission and Roeland Park? Find out about proposed designs at an open house from 5-7 p.m. on July 19, at the Matt Ross Community Center, 8101 Marty, Overland Park, Kan. These transit improvements are funded by the region's TIGER grant. Details
---
Downtown KC transit study open house materials posted

find out what attendees had to say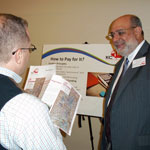 More than 110 people attended an open house for the Downtown Corridor Alternatives Analysis on June 21 at the Central Branch of the Kansas City Public Library. The study is evaluating a possible starter transit line for downtown Kansas City, Mo.
The event provided a first chance for local residents, businesses and transit riders to review and provide feedback on an initial set of possible routes, modes and financing options that may be analyzed during the study. The presentation, draft purpose and need statement, display boards, maps, and comments from attendees are now posted on the project website.
Want to schedule a presentation about the study for your group? Contact Triveece Harvey at 816-756-5690 ext 3038.
in brief
Will regional transit be one of The Chamber's "Big 5 Ideas"?
calendar