may 14, 2012
Kansas City seeks more input on downtown streetcar project
attend open houses may 15–17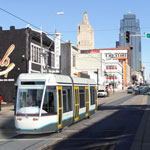 The city of Kansas City, Mo., will host a series of public open houses this week to discuss plans for the proposed Kansas City Downtown Streetcar project. Drop by to review project exhibits that illustrate the streetcar route, explain construction timing, outline applicable studies and plans, and describe the funding strategy. City representatives and consultant team members will be on hand to answer questions and discuss issues or concerns.
Brief presentations will be made at 4:30, 5:30 and 6:30 p.m. during each open house.
Tuesday, May 15, 2012 | 4–7 p.m.
Helzberg Auditorium, Kansas City Public Library - Central Branch
14 W. 10th St., Kansas City, Mo.
Wednesday, May 16, 2012 | 4–7 p.m.
Atrium, Steamboat Arabia Museum
400 Grand Blvd., Kansas City, Mo.
Thursday, May 17, 2012| 4–7 p.m.
Arthur Stilwell Room (C-Level near Grand Gallery)
Union Station, 30 W. Pershing Rd., Kansas City, Mo.
The proposed downtown streetcar is a starter line for an expanded regional transit system. As recommended by the recently completed Downtown Corridor Alternatives Analysis, the streetcar would provide an attractive transit option to better connect people and places. It will also support regional and city efforts to develop downtown Kansas City as a more vibrant and successful urban center.
The total project is estimated to cost approximately $100 million. If the project's funding plan is approved by downtown residents, construction could begin as soon as mid- to late 2013, with an anticipated opening in mid-2015.
Visit www.kcata.org to access Metro bus schedules, or contact the Regional Call Center at 816/221-0660.
---
Study narrows transit options for I-70 and Rock Island corridors
review materials and share feedback
Jackson County Commuter Corridors Alternatives Analysis study partners hosted open houses on April 24–26. Missed the events? You can still learn about how the short list of transit options being considered for the I-70 east and Rock Island corridors is stacking up in terms of cost, impacts to the community and ridership potential. Review materials | Submit a comment
---
Study partners include Kansas City, Mo.; Jackson County, Mo.; the Kansas City Area Transportation Authority; and the Mid-America Regional Council

in brief
New buses for UG Transit
The Unified Government Transit Department rolled out seven new buses last week. They feature state-of-the-art camera systems for passenger and driver safety, as well as bicycle racks.
The buses were paid for by a federal earmark and Kansas Department of Transportation toll-revenue credits. UG Transit will use another federal earmark to continue upgrading its fleet with an additional eight new buses later this year.
---
JoCo transit system facing severe cutbacks


The Kansas City Star reports that, despite growing ridership, deep budget cuts could lead to drastic changes for Johnson County Transit's bus system. Read story

calendar
May 23
Kansas City Area Transportation Authority Board of Commissioners, 12 p.m.
June 6
Mid-America Regional Council Transit Committee, 9:30 a.m.
June 12
Johnson County Transportation Council, 7 a.m.
June 13
Mid-America Regional Council Special Transportation-Job Access Partnership, 9 a.m.