february 21, 2012
Streetcar on Main officially part of long-range transportation plan
taxing district proposed to fund project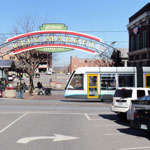 A plan to build a modern electric streetcar system in downtown Kansas City, Mo., is picking up speed.
The proposed route is a two-mile stretch of Main Street between River Market and Crown Center. It was adopted last fall by the Kansas City Council after the Downtown Corridor Alternatives Analysis study looked at several alternatives. The route would intersect three major transit hubs: Grand Boulevard at 3rd Street, Main Street at 10th Street, and Main Street at Union Station.
The streetcar is expected to better connect downtown activity centers and promote economic development. It supports Kansas City's Greater Downtown Area Plan goals and the Smart Moves vision for regional transit.
The Mid-America Regional Council has added project details — including vehicle mode, route and a financing plan — into the region's long-range transportation plan, Transportation Outlook 2040. The city of Kansas City, Mo., is ready to move the downtown streetcar project into advanced conceptual engineering.
In January, the city council also approved two resolutions that would let voters within a proposed transportation development district decide 1) whether to make the district a quasi-governmental entity, and 2) whether to pass a 1 percent sales tax increase and assess additional property taxes to help pay for most of the $100 million cost to build the streetcar system. Federal funds would also be sought to pay for about a quarter of the project.
The target for opening the streetcar service is April 2015, depending on funding availability.
Photo illustrations of streetcar on Main Street
---
KU Med transit study recommends service improvements
proposed changes affect many routes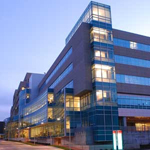 The Unified Government of Wyandotte County/Kansas City, Kan.; Roeland Park; the Kansas City Area Transportation Authority; Johnson County Transit and Mid-America Regional Council recently teamed up with the University of Kansas Medical Center to develop a plan for improving transit service coordination and better connecting communities near the campus.
One of Wyandotte County's largest employers and a significant regional activity center, KU Med at 39th Street and Rainbow Avenue sits at the intersection of two states, three counties and three transit systems. An estimated 10,000–15,000 students, employees, patients and visitors flock to KU Med every day. Transportation options to the campus are becoming more important as the medical center continues to grow.
The project team hired HNTB to study the campus and surrounding areas. HNTB looked at transit service demand, route extensions or realignments, and possible new routes. The consultant's recommendations include changes to several bus routes, a new transit hub at 39th Street and Rainbow Avenue, and ways to increase the visibility of transit and improve pedestrian access. The project partners will need to prioritize the improvements and identify funds to make the upgrades. A final report will be available soon.
in brief

Local cities discuss transit-oriented development plans
Cities along the I-70 east and Rock Island corridors in Jackson County participated in a transit-oriented development workshop Feb. 6–8 in Independence, Mo. The event was part of study to evaluate transit options for the corridors, connecting downtown Kansas City, Mo., to growing suburban communities.
Defining land use and economic development opportunities will play an important role in shaping the Jackson County Commuter Corridors study process. The federal government — a desired future funding partner — will want to see evidence that local communities are laying the groundwork to maximize transit-oriented development. A summary report on the workshop will be available soon.
calendar
February 29
Kansas City Area Transportation Authority Board of Commissioners, 12 p.m.
March 7
Mid-America Regional Council Transit Committee, 9:30 a.m., MARC office
March 13
Johnson County Transportation Council, 7 a.m.
March 14
Mid-America Regional Council Special Transportation-Job Access Partnership, 9 a.m., MARC office
March 28
Kansas City Area Transportation Authority Board of Commissioners, 12 p.m.
April 17
Public Hearing on Kansas City Downtown Streetcar Transportation Development District (Case No.: 1216-CV02419), 1:30 p.m., Courtroom 10, Jackson County Courthouse, Kansas City, Mo.