Kansas City region received $1.2 million
in TIGER grant from U.S. DOT
Planning grant will focus on improving transit access to employment centers

The Kansas City region will receive a $1.2 million planning grant for an initiative to double the number of jobs accessible by public transit over the next 10 years. The award is one of 72 grants totaling $600 million announced today by the U.S. Department of Transportation as part of its 2014 TIGER (Transportation Investment Generating Economic Recovery) grant program.
The Mid-America Regional Council applied for the grant on behalf of the Regional Transit Coordinating Council, in partnership with the area's four transit agencies — the Kansas City Area Transportation Authority, Johnson County Transit, Unified Government Transit and Indebus.

A recent study by the Brookings Institution found that only 18 percent of jobs in the region are reachable via transit in 90 minutes or less — ranking the Kansas City region 90th of the 100 largest metros.
The "KC Workforce Connex" initiative will build on work completed over the past four years with grants from an earlier round of TIGER funding and a Sustainable Communities regional planning grant from the U.S. Department of Housing and Urban Development.
Grant partners will use a four-part strategy to strengthen transit connections between people and jobs.
Identify high-priority areas where improvements will have the most impact.
Expand the region's existing corridor framework, connecting to more suburban employment centers.
Engage employers and community organizations in planning through extensive public engagement and outreach.
Use technical tools to evaluate specific strategies and recommendations in targeted, high-impact areas.
The  planning initiative is expected to begin in 2015 and take 18 months to complete.
Share your thoughts on the Future of Smart Moves
Kansas City Region's Long-Range Transit Vision
Hosted by the city of Mission, Kansas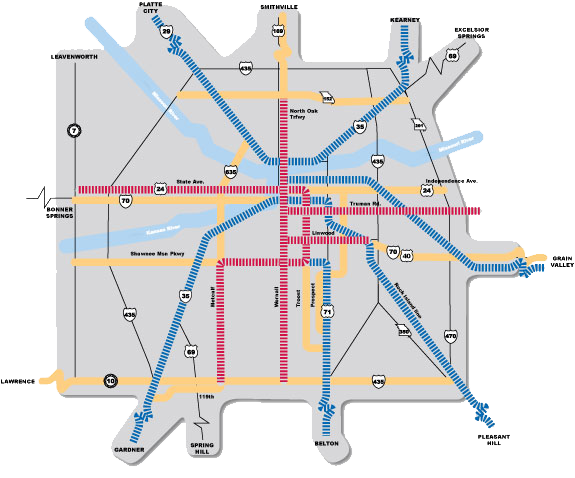 The Smart Moves Regional Transit Vision is metropolitan Kansas City's vision of regional transit service, expansion and future enhancements. Smart Moves was last updated in 2008, but so much has happened since then! 
The Smart Moves Technical Team, a coalition of MARC and area transit agencies, will begin work in 2015 to update the Smart Moves Transit Vision on behalf of the Regional Transit Coordinating Council.
As part of this update process, we will also consider the goals of
the regional TIGER VI plan work, KC Workforce Connex.
Come learn about and contribute to the Smart Moves Vision. We look forward to your input on our regional transit successes and challenges along with your ideas for new Smart Moves connection opportunities.
 If you are unable to attend and wish to submit a comment or question, send an email to smartmoves@marc.org.
This forum is brought to you by the Mid-America Regional Council and Kansas City Area Transportation Authority in partnership with Johnson County Transit, Indebus and Unified Government Transit.
Funding recommendations approved by TTPC
Sept. 16, 2014
During the September meeting of the Total Transportation Policy Committee, a list of funding recommendations was presented to the committee, and approved.
Funding recommendations include Kansas and Missouri projects recommended for funding under the 2017–2018 Surface Transportation Program funding, 2015–2018 Congestion Mitigation/Air Quality Program funding and 2015–2018 Transportation Alternative Program. These projects have been added to the 4th Quarter Amendment to the Transportation Improvement Program, or TIP, that is available for public review and comment until Thursday, Oct. 2.
Many transit projects will be funded across our region thanks to this round of funding. There were be more clean and alternative fuel vehicles; clean vehicle conversions; and work towards a regional transit brand as a result of planned projects.